Some hibiscus cultivars grown in Sweden
| | | |
| --- | --- | --- |
| Kalinka, France | Columbine, Denmark | Cairo red, Denmark |
| Dianthoides, old European cv | Desert Wind | Crown of Bohemia |
Common difficulties peculiar to house grown hibiscus:
Pests: The ones to especially look out for with house grown hibiscus are spider mites, compliments of a dry indoor environment. These can be somewhat combated by proper showers once a week.
Excessive size: Pruning will be needed. Ideal time is in fall, August - October, but spring pruning is practised by some with good results. For a well balanced plant try to establish three main branches. These are shortened to 1/3, all the rest completely cut back. For extremely vigorous plants a cautious root pruning, never more than 1/3 of the rootball, might be utilised in connection with spring replanting.
Replanting: Commonly occur once a year in spring. Carefully lift the whole plant out of the pot. Remove as much of the old soil as possible. Choose a new pot one size larger than the old. For some plants the roots have to be cut back too (see above). Replant in well draining soil.
Drought: Hibiscus rosa-sinensis is fairly drought tolerant. Water regularly but do not leave water standing in the planter. Fertilise every week even in winter (half strength) with low P (phosphorous) fertiliser, but NEVER when the soil is bone-dry. It can burn the roots badly.
Yellow leaves: Often the result of underwatering. Can also occur when plant spent summer outside and are brought indoors in fall. Here the trick is to minimise shock by weaning the plant to indoor conditions. How-to: The first day take plant in 1 hr, the next 2hr and so on until they spend as much time indoors as out.
Light: Placed in window with southern exposure artificial light is rarely needed.
Bud drop: Common result of drought. Some will invariably fall off. If the plant grows unevenly it can be turned, but slowly, about 1/8 turn a week, too rapidly may result in bud drop.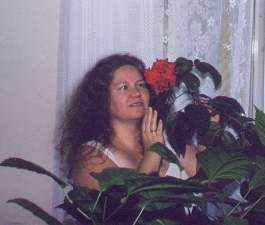 The Author together with a still flowering 39 year old Dianthoides cultivar.
Yvonne Forsling
pictures, art and text
Back to: Tropical Hibiscus Home Page